Unimogs are all about context. See one in the middle of London and it will freak you out. Seeing one in a quarry or a forest is perfectly natural.
Mercedes' built-for-purpose Unimogs have been carrying out extreme agricultural and municipal duties since the early 1950s. Their first function was to cut and haul timber. These days, the 'Mog's modular, flexible design allows it to be put to a variety of uses including tunnel-cleaning, animal feed-hauling, snow-ploughing and even train-towing. Unimogs have competed on Dakar Rally raids and starred in Hollywood movies – check out 'Hound' the Autobot from Transformers: The Last Knight.
We did. It was at the Unimog Live event at the Millbrook Proving Ground, where we got to drive a few of these awesome machines.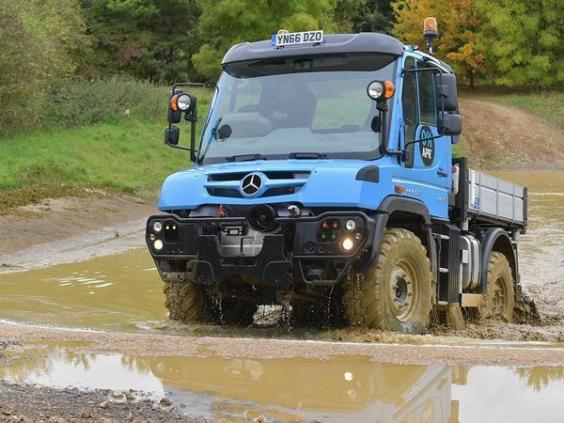 Smaller Unimogs have three-number names. The smallest of all is the U218. Its 177bhp power figure might not sound much, but its 553lb ft of torque will see over most obstacles, helped by portal axles that sit above the wheel hub centres to give it a mighty 347mm of ground clearance. The top speed is 56mph, the fuel consumption is, er, 7.4mpg. Apparently that's quite good for a truck like this.
Once you're in the spring-mounted seat looking at a sackful of buttons, hydraulic controls, and the massive steering wheel, you realise this is rather more than a giant-sized G-Wagen.
If you choose Vario Pilot when ordering, the entire steering assembly can be moved over from one side of the cabin to the other. On the steering column is a manual gear selector and clutch. The electro-pneumatic system lets you pre-select a different gear on the fly, dipping the clutch slowly until the ratio is engaged. Then you have to operate the multi-stage engine brake and diff locks. There's plenty to keep you occupied. If you're a wuss you can go for a normal automatic gearbox.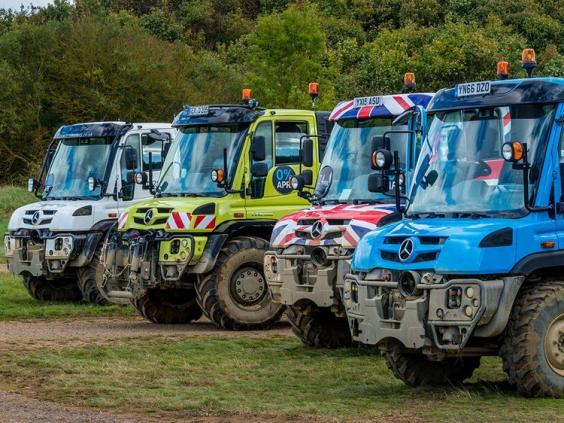 The course we tackled looked murderously hard, but in fact it turned out to be quite the opposite in the Unimog. It sailed through everything. Water, ascents, and descents that would bury most off-roaders were all shrugged aside.
Mercedes says a Unimog will conquer a 45-degree gradient even when it's fully loaded. Deep pool wading was laughably easy. Across very rutted ground you can actually hear the chassis flexing. If things get mega-sticky you can drop or raise the tyre pressures from the cabin.
We also tried out the much bigger U5203. It has a longer wheelbase and a 1200mm fording ability which, believe us, is a lot. It was better over the rutted stuff than the smaller truck, and again it was far too capable to be bothered by the sort of sections we'd hesitate to walk on without crampons.
No new Unimog can be had for a mere five-figure sum, but drive one of these babies down Ken High St and we guarantee you'll get more attention than that loser in the Lamborghini. Especially if you get Brabus to tweak the mechanicals a bit.
Tony Middlehurst is a writer for PistonHeads.
Reuse content